Brad Pausch Wins DPT Championship Main Event $10,145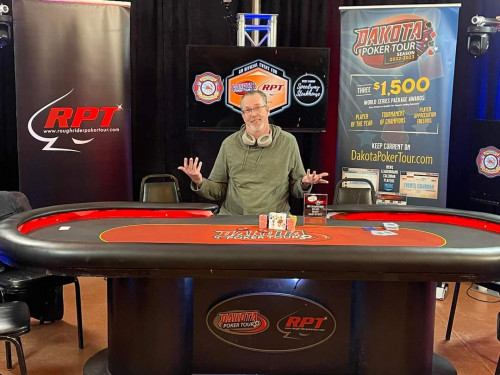 Congratulations to Brad Pausch from Wahpeton DPT Championship main event winner 1st Place-$10,145. This big win puts Brad at the top of the Player of the Year season standings and a seat in the Tournament of Champions.
Thank you to everyone that came out to support the Dakota Poker Tour and Roughrider Poker Tour!!
1. 10,145 Brad Pausch Wahpeton,ND
2. 6,640 Niles Short, Minnowakan,ND
3. 4,280 Dave Berger, Grand Forks, ND
4. 3,300 Donald Drummond, Fargo ND
5. 2,450 Cody Slusher, Oaks ND
6. 1,950 Chad Hegeberg, Lisbon, ND
7. 1,560 Brandon Schmidt, Fargo ND
8. 1,220 David Beadle, Mobridge, SD
9. 975 Titus Wipf, Fargo, ND
10. 850 Taylor Collins, Moorhead, MN
11. 850 James Meagher, Mekinock, ND
12. 850 Mark Alinder, Fargo, ND
13. 700 David Keena, Frazee, MN
14. 700 Dennis Seeb, Fargo, ND
15. 700 Mark Ihninger, Williston, ND
16. 600 Bryan Thompson, Fargo, ND
17. 600 Ernest Trzpac, Kathryn, ND
18. 600 Sam Saville, West Fargo,ND