Nick Ingolfsland Captures Speedway Title and $11,230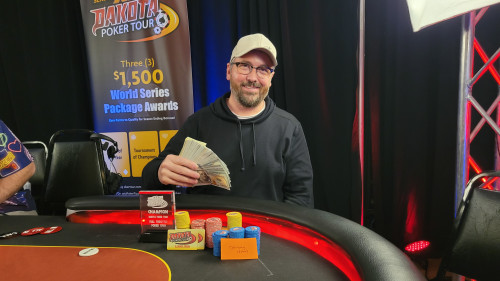 Nick Ingolfsland picked a great time to make his first appearance of the season, taking down a DPT-record 170 player single-day tournament field at the Speedway Event Center for $11,230. The final table featured several players in the hunt for Player of the Year status including Ashly Hafdahl, Basim Habib, and Mark Dufner. Ashly was knocked out on the first hand running into quad aces and Mark Dufner was also knocked out after flopping a set.
When we got headsup it was Nick and Awesome Basim, with Nick flopping a full house to put Basim away. With the big win, Nick catapulted out of nowhere to challenge for Player of the Year status, but Basim's 2nd place $7,250 cash put him on top. Sunday's Bounty Tournament now becomes very interesting in terms of the point race. But no matter what happens on Sunday, players should know that the Player Appreciation Freeroll and and Tournament of Champions events will COUNT towards POY status as well. Those freeroll bonus tournaments will award points using the FPN points structure, which awards points to approximately the top 30% of the field.